Cheap Minibus Hire In Belfast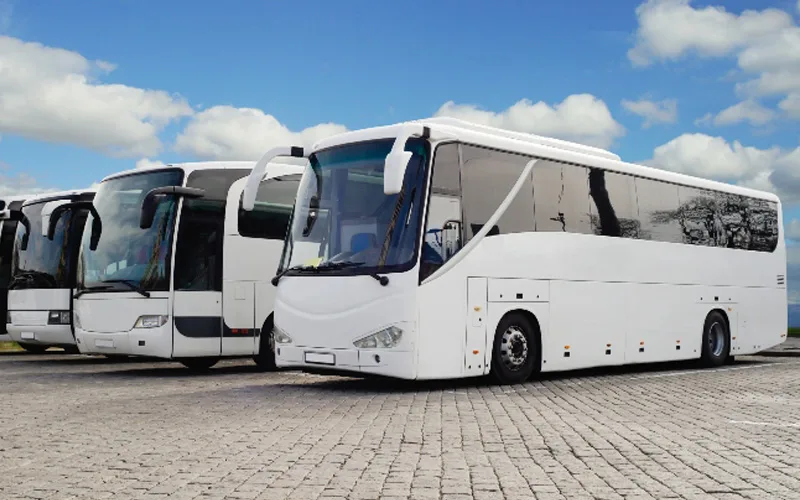 Global Bus Rental is Belfast's top minibus hire company, meeting customers' diverse transport needs. Our dedication to a smooth and comfortable ride makes us the top choice for reliable transportation. Global Bus Rental offers unmatched ease for Belfast local trips and tours to nearby destinations with its extensive fleet of well-maintained minibusses. Our services are customized for corporate travel, leisure trips, and group events. Our top priorities are safety, punctuality, and comfort, making every ride with us an unforgettable experience. Belfast minibus hire customers choose Global Bus Rental for many reasons. First, we stand out for our dedication to quality service. We put customer satisfaction first, ensuring that every minibus hire experience exceeds expectations. Second, our affordability without compromising quality makes us a top choice. We understand the importance of affordable, reliable, and comfortable travel. Global Bus Rental's Belfast minibus hire services are provided by a team of experienced professionals dedicated to customer satisfaction. Our drivers are friendly and skilled navigators, making the ride enjoyable. Global Bus Rental places a high emphasis on meeting the needs of its customers, ensuring that each trip is characterised by exceptional quality and a lack of stress.
Belfast, the capital of Northern Ireland, is a bustling city with a fascinating fusion of old and new. Located on the banks of the River Lagan, this city has emerged from its troubled past to become a thriving multicultural hub. Belfast, despite being a city steeped in history, manages to blend its modern elegance with the remnants of its industrial past. Titanic's original shipyard, Harland, and Wolff is a significant symbol of the city's industrial force and a must-see for those interested in history. //www.titanicbelfast.com/history-of-titanic/titanic-stories/a-history-of-the-shipyard-queen-s-island-to-titanic-quarter/ The Cathedral Quarter, meanwhile, is a hive of activity thanks to its abundance of galleries, hip restaurants, and lively drinking spots. Views of the city and its beautiful countryside can be enjoyed from the city's historic landmarks, such as the majestic Belfast Castle atop Cave Hill. The Ulster Museum also features an extensive collection of artwork and artifacts from different time periods, making it a popular destination for both locals and visitors. //www.ulstermuseum.org/ Belfast's allure lies not only in its historical significance but also in its ability to embrace the present while looking towards the future. The friendly, outgoing people who live in this city are a big part of what gives it its unique character. Belfast entices visitors to wander its charming streets and dive into its fascinating history with its blend of historic landmarks, and culture vibrancy.
The Botanic Gardens are a haven of peace in the heart of the city, with their verdant landscaping and beautiful Victorian glasshouse. //visitbelfast.com/partners/botanic-gardens/ The Crumlin Road Gaol, meanwhile, serves as a sobering monument to Belfast's troubled history and can be visited on guided tours that delve into the building's eerie past. There is an abundance of transport choices in and around Belfast. The George Best Belfast City Airport is a domestic airport and a hub for regional travel, and it is located close to the city center. A little way outside of town is Belfast International Airport, which serves international flights and connects passengers to the rest of the world. Global Bus Rental facilitates getting around Belfast and seeing all of its sights and sounds. Whether it's exploring historic landmarks, enjoying the vibrant arts scene, or moving around the city comfortably, our minibus hire services offer a hassle-free and flexible way to travel. Global Bus Rental offers convenient and comfortable airport transfers and individualised tours of Belfast. Because we share the city's value for efficiency and rapidity, we are the best option for those in need of dependable transport in Belfast.
In Belfast, Global Bus Rental offers a wide selection of well-maintained buses for groups of all sizes. For smaller groups or families in need of convenient and comfortable transportation, our 8-seat minibuses are the ideal choice. Our 8-seat minibuses are available for both minibus hire and coach hire, so whether you need them for a city tour or an airport transfer, we've got you covered. Our 12-passenger minibuses are a great option for groups a little larger than that, as they offer both adaptability and space without reducing comfort. Minibuses like these are in high demand in Belfast because they are convenient for group excursions, events, and business trips within the city. Stepping up in capacity, our 16-seat minibuses offer a balance of space and manoeuvrability, providing a comfortable and enjoyable ride for medium-sized groups exploring Belfast's attractions. For those in need of cheap minibus hire without sacrificing comfort or quality, these vehicles are a great option, thanks to Global Bus Rental's dedication to both. Our fleet also consists of larger vehicles such as mini-coaches (24 seats), full-size coaches (36 seats), and even a 72-seat Megabus. These options cater to larger groups or events, offering spacious and comfortable transportation solutions for excursions, tours, or corporate gatherings. Whether you're in need of a minibus or a coach, Global Bus Rental is your number one option in Belfast because of our extensive fleet that includes vehicles of varying seating capacities and designs.
Online Quote Form
Complete your journey information below: